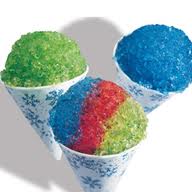 Snow Cone Syrup by Penguin Juice offers a tasty beverage line which consists of a ready to use syrup with brilliant color and rich in flavor.
Designed with thickening properties to allow the Snow Cone Syrup to cling to the ice for longer periods of time.
An ounce or so of ready to use syrup will do the trick compared to other products that have to be mixed with a neutral base and then it all ends up on the bottom of the cup.
Snow Cone Syrup is packaged in 4 1-gallon or 6 1/2 gallon bottles. Our snow cone products have a shelf life of 9-12 months if stored in a cool, dry place.
Snow Cone Syrup Flavors
Banana Split
Blue Raspberry
Cherry
Fruit Punch
Grape
Green Watermelon
Kiwi
Mango
Orange Cream
Orange-Cream

Peach
Peach Mango
Pina Colada
Raspberry
Raspberry-Orange
Red Raspberry
Strawberry
Strawberry-Banana
Strawberry-Kiwi
Watermelon
* Other Flavors are available upon request with a minimum order.
Private labeling is available upon request.