Frozen Carbonated Beverages
FROZEN CARBONATED BEVERAGES – FOR THE CHILL & THRILL OF IT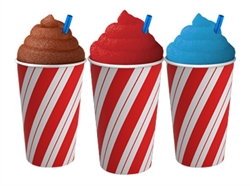 Frozen Carbonated Beverages (FCB) Syrup is a product that is made to be used in a machine that dispenses a frozen beverage. Both water and CO2 are required for this type of equipment.
FCB is frozen drink with fizz and is usually served in a cup with a domed lid.
Our FCB products come packed in 3 or 5-gallon bag in the box and as with all of our beverages is shelf stable.
FROZEN CARBONATED BEVERAGES – FLAVORS
Banana
Blue Raspberry
Cherry
Citrus Yellow
Clear Cherry
Cola
Fruit Punch
Grape
Green Watermelon

Lemonade
Pink Lemonade
Orange
Raspberry Lemonade
Strawberry
Strawberry-Banana
Strawberry Kiwi
Zip (Lemon-Lime)
Private labeling is available.