COCKTAIL DAIQUIRI MIX FOR BLENDER & MACHINE FROZEN DRINKS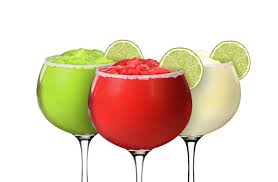 Cocktail Daiquiri Mix offered by Penguin Juice are delicious. Cocktail and daiquiri blender mixes which are formulated to deliver a great tasting product with enhanced blending characteristics. Whether you are creating a fruit smoothie or blended alcoholic and non-alcoholic cocktails; the possibilities are endless.
Penguin Juice Cocktail/Daiquiri blender mix is a shelf stable product bottled in plastic 1/2 gallon containers with an easy grip neck. It does not require refrigeration and has an average shelf life of 3-12 months which can be prolonged if stored in a cool, dry place. The flavors can be combined to create new drinks.
Penguin Juice cocktail daiquiri mixes are of the highest quality, and just one taste proves it.
COCKTAIL DAIQUIRI MIX FLAVORS
Banana
Mai Tai
Margarita
Orange Cream
Peach

Pina Colada
Raspberry
Strawberry
Watermelon