FOUNTAIN DRINKS – YOU CAN TASTE THE DIFFERENCE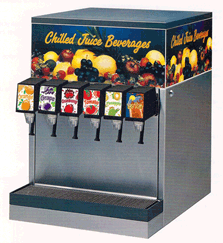 Fountain Drinks offered by Penguin Juice are syrups with consistent, good taste at cost-effective rates. They come packed in bag-in-the-box which allows the soda to stay fresher longer. You also can keep more flavors of fountain drinks on hand. So you can always have fresh soda on demand.
Taste the difference for yourself and because it comes in the box, you have less waste and mess than bottles or cans. Fountain drinks syrups are available in 3 or 5-gallon bag-in-the-box.
A wide variety of large and small companies rely on Penguin Juice Company to provide quality, dependable, consistent and cost-efficient fountain drink products. And … in a changing world market, we are looking forward to the development of new flavor profiles and new product innovations for our growing customer base.
FOUNTAIN DRINK SYRUP FLAVORS
Cherry
Citrus Yellow
Cola
Diet Cola
Dry Ginger Ale
Grape
Grapefruit Soda

Orange Pop
Root Beer
Simple Syrup
Strawberry
Sweet Ginger Ale
Tonic
Zip (Lemon-Lime)
Penguin Juice offers other packaging sizes with a minimum order. Private labeling is also available upon request.